This Economic Model Organized Asia for Decades. Now It's Broken
Automation threatens to block the ascent of Asia's poor. Civil unrest could follow
By Kevin Hamlin and Dexter Roberts – Boomberg
Thirty minutes by car into the scrubby desert outside Korla, in China's remote Xinjiang region, a textile manufacturer owned by Jinsheng Group is building its latest factory complex. Inside the 16 billion-yuan ($2.4 billion) facility—a collection of stark white warehouses surrounded by an enormous expanse of pristine artificial grass—are rows of huge cotton spools, more than a million bright red and blue spindles, and almost no people. A few German engineers wander around, making sure the equipment runs at peak efficiency. This is the depopulated future of an industry that's lifted millions of Asians out of poverty.
Jinsheng's factory covers almost 15 million square feet, more than five times the floor area of the Empire State Building, but it needs only a few hundred production workers for each shift. "Textiles used to be a labor-intensive industry," said Pan Xueping, the chairman and chief executive officer, in a September speech in Urumqi, Xinjiang's capital. "We are at a turning point." Instead of moving production to whatever nearby country has the lowest wages, he added in an interview a day after the speech, "the industry can achieve a human-free factory."
Pan's company is at the vanguard of a trend that could have devastating consequences for Asia's poorest nations. Low-cost manufacturing of clothes, shoes, and the like was the first rung on the economic ladder that Japan, South Korea, China, and other countries used to climb out of poverty after World War II. For decades that process followed a familiar pattern: As the economies of the early movers shifted into more sophisticated industries such as electronics, poorer countries took their place in textiles, offering the cheap labor that low-tech factories traditionally required. Manufacturers got inexpensive goods to ship to Walmarts and Tescos around the world, and poor countries were able to provide mass industrial employment for the first time, giving citizens an alternative to toiling on farms.
Today, Bangladesh, Cambodia, and Myanmar are in the early stages of climbing that ladder—but automation threatens to block their ascent. Instead of opening well-staffed factories in these countries, Chinese companies that need to expand are building robot-heavy facilities at home. "The window is closing on emerging nations," says Cai Fang, a demographer in Beijing who advises the Chinese government on labor policy. "They will not have the opportunity that China had in the past."
The transformation looks like it will happen fast. The International Labor Organization (ILO) estimates that mass replacement of less-skilled workers by robots could be only two years away. Overall, more than 80 percent of garment industry workers in Southeast Asia face a high risk of losing their jobs to automation, according to Chang Jaehee, an ILO researcher who studies advanced manufacturing. Chang recalls presenting her findings to a government official in a country in the region that she declines to name. The official's response? If she's right, the result could be civil unrest.
Until recently, even as robots took over much of the manufacturing of larger goods such as cars and jet engines, the prospect of applying automation to towel-weaving or dress-stitching looked like a long shot. Sewing clothes is a delicate undertaking. Making a seemingly simple dress shirt with a breast pocket can require 78 separate steps, and machines that can match the dexterity of human fingers are still a costly rarity. What's more, tech entrepreneurs had little incentive to design automated systems for a low-margin industry with ample access to cheap labor and little cash to spend on sophisticated gear.
These factors have led to complacency in parts of the textile industry. "Today, there is no equipment that can make these handmade products," says Sahil Dhamija, whose Sahil International produces bathmats and bed linens for export at a factory in Panipat, India, that employs about 500 people. He spoke at the Canton Fair, a trade conference in Guangzhou, China, in May.
Dhamija might want to visit Atlanta. A group of Georgia Tech engineering and robotics professors founded a startup called SoftWear Automation there in 2007, with the goal of overcoming the difficulties machines have in picking up flexible fabric and pinpointing where to stitch and cut. SoftWear's first prototype took seven years to develop, sustained in part by a $1.75 million grant from the Defense Advanced Research Projects Agency, a Pentagon group that pushes bleeding-edge development. In 2015 the company made the first sales of its invention, the Sewbot, to customers in the U.S. Revenue last year rose 1,000 percent, and it's on track to do the same in 2017, according to CEO Palaniswamy "Raj" Rajan.
The breakthrough was as much about vision as touch; before SoftWear's robots could make clothes accurately, they needed to learn to see garments as a collection of fine folds and details, rather than undifferentiated blobs of fabric. For now, the Sewbot can handle products including towels, mattress covers, and pillows, which require 10 steps or fewer to produce. But the company is at work on upgraded machines that can create T-shirts and eventually more complicated garments such as jeans and dress shirts. The ultimate goal, Rajan says, is "full automation, from a roll of material to finished product." He says he has preliminary interest from clients in China, South Korea, Japan, and other countries across Asia.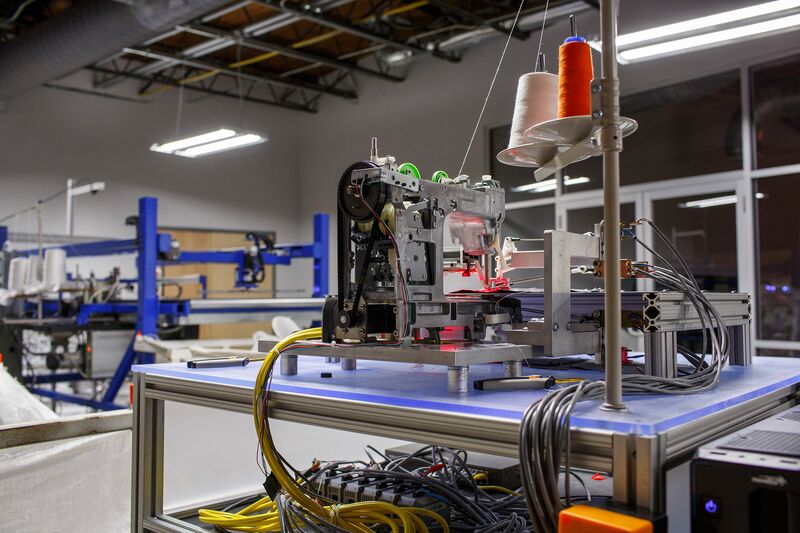 As automation accelerates, it's not just Asia that could see its industrial trajectory affected. If the cost of labor is no longer a major factor, there's no reason manufacturers can't relocate production to where the bulk of their customers are: North America and Europe, where wages for decades have been too high to support textile production. Remove most of the workers from the equation, along with the costs and delays of round-the-world shipping, and making clothes or shoes in Dallas or Düsseldorf instead of Dhaka starts to look like a compelling idea.
German sportswear giant Adidas AG moved some shoe production to a highly automated "speedfactory" in its hometown of Ansbach that's scheduled to begin large-scale operations this year. The company plans to open a similar plant in the U.S. In May, China's Shandong Ruyi Technology Group Co., the owner of luxury brands such as Sandro and Maje, announced that it would invest $410 million in a textile plant in Forrest City, Ark. "Automation essentially levels the playing field," says Frederic Neumann, co-head of Asian economics research at HSBC Holdings Plc in Hong Kong. "What emerges is a giant strategic game, in which individual governments will seek to attract industries to set up shop locally."
The losers are likely to be poor countries that were counting on large-scale manufacturing employment to build prosperity. As wages rose in China, Transit Luggage Co., a suitcase maker based in the southern city of Dongguan, explored two options: moving production to low-wage Vietnam or investing in automation at home. Executives chose the latter. One robot now matches the output of about 30 workers making soft luggage, says sales manager Yang Yuanping. As a result, she says, the company employs fewer workers than it did a decade ago, while producing three times as many items.
Even that pace of production is no guarantee of survival in a fast-innovating industry. Yang has begun to worry about competition from Poland and the Czech Republic, as automation allows European countries to compete on price for the first time. "We have to think about how we can beat them," she says. "We know they will get the machines." —With Jason Clenfield and Bloomberg News